In less than 48 hours, the power of the online review was wielded against Nashville's Morton's The Steakhouse and only with a smart, clear and prompt response will the eatery dig out of the rude treatment of a cancer patient.
Briefly, on Friday, December 13, an office party of 16 visited the downtown area restaurant, and, during dessert, Robert Chambers, the long-time host of The Coin Vault, put on a beanie after feeling chilled which he says is a result of recent cancer treatments.  You can read more of his first hand account in this Nashville Scene news story. Also, visit Yelp for some of his co-workers accounts posted as reviews here.
As the firestorm continues via social and traditional media outlets, there are some important lessons any business should take to heart.
1. Problem:
You'll notice in the Monday 4:00 p.m. Nashville Scene story, and it was announced during the 5:00 p.m. local ABC affiliate  WKRN news cast, we were unable or trying to reach Morton's for a comment. The incident happened on a Friday. Morton's tried to stall for time by posting on their Facebook page two days later this message.
"We are aware of the situation that happened at our Nashville location over the weekend. We appreciate you all bringing it to our attention, and we have reached out to the parties involved and can assure you that all facts will be uncovered. Please know that our corporate executives are dedicated to making this right with our customers. We appreciate everyone's concern."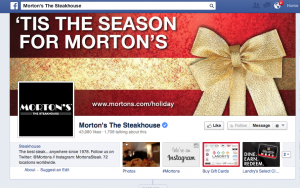 To date, the Morton's stalling post has earned 83 shares and 678 generally unfavorable comments just on Facebook. The Yelp unfavorable reviews/comments continue.
1. Solution – Acknowledge Timely:  
Internally, Morton's obviously has to review their procedures for employee interactions with customers. Something went seriously wrong. However, the Yelp reviews started posting immediately on Friday night. This picked up speed on social media outlets by Saturday morning. The above time stalling Morton's post came along on Sunday afternoon.
If this post had been made more timely, it could have served its purpose; however, social media is instantaneous and requires faster, smarter, resolution oriented response. Morton's needed to post sooner as it pursued the source of the incident, Mr. Chambers, for resolution. Acknowledge immediately!
2. Problem:
Late Monday afternoon, this message was posted.
"Our executive team has been in contact with Mr. Chambers who fully accepted our apology. There was a complete and total misunderstanding by our staff who had no idea that our guest had a medical condition. Our actions were uninformed and our intentions were not malicious. As a sign of our sincere apology and commitment to the community, we are donating on behalf of Mr. Chambers, $2,000.00 to the St. Jude's Hospital. In addition, Morton's The Steakhouse will also partner with Mr. Chambers to underwrite a cancer fundraiser. At Morton's The Steakhouse, superior customer service is our first priority. We appreciate the patronage of our loyal guests and look forward to continuing to serve the Nashville community. We embrace our role as an iconic location where generations come to share special moments and memories." Tim Whitlock, Sr. V.P. Operations & C.O.O. Morton's The Steakhouse
This was followed up with another note sharing Mr. Chambers Facebook message that he had accepted their apology.
2. Solution: Apologize Immediately
How did any corporate communications person think NOT immediately apologizing to a cancer patient would work out? It took 48 hours for this apology to be issued and included was the "our staff who had no idea that our guest had a medical condition." If you are wondering why your firestorm is continuing, an apology with an incredulous statement splashed in could be the answer.
Man-up, understand something really bad happened, and be genuine in your apology.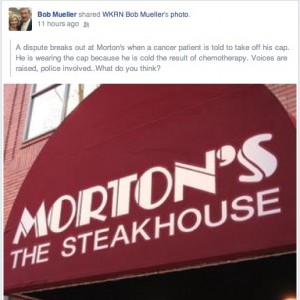 3. Problem:
The solution offered by Morton's was a donation and a future cancer fundraiser co-hosted with Mr. Chambers.
3. Solution: Act Appropriately
A pledge of money and future fundraiser is great – perhaps a kind of throwing money at the problem reaction. Is anyone wondering about employee sensitivity training? Does anyone hope a future cancer patient isn't treated unkindly if they try to wear a beanie?  WKRN reported that a sit-in campaign complete with folks wearing hats is planned for later this week. Employee sensitivity training, addressing restaurant policy on hats and donating hats to local cancer treatment clinic could have helped alleviate the continuing bad taste left by this incident which has now earned a Huffington Post story moving it to the national news.
4. Problem:
Where oh where is a spokesman for Morton's?
4. Solution: Availability Crucial
React quickly, appropriately and be available on camera to respond offering your resolution. The faster this is dealt with publicly (cause hello Facebook and Yelp are the new public), the quicker your problem will go away.
In conclusion, it really is all about customer service – particularly in online reputation management. I'm personally intrigued with TripAdvisor rankings after working with the team of Fontanel this past year with the Southern Living Idea House project. (Open until December 29 for tours.)
This is the homestead of former home of Country music legend Barbara Mandrell. Currently Fontanel is #2 in the ranking of Nashville attractions! Seriously?! They were #4 about eight months ago beating the Grand Ole Opry and Opryland related attractions and President Andrew Jackson's home.  This feat fascinated me so I Googled how do you impact this ranking or can you manipulate TripAdvisor?  The answer is "no" and when I talked with one of the co-owners Marc Oswald about it he smiled and said "just good old-fashioned customer service."
Out of 1,658 Nashville restaurants with 32,661 reviews, Morton's Nashville locale currently ranks #206.
Forest Home Media is a Nashville-area integrated marketing company specializing in home-related businesses and offers a spectrum of services from on-going public relations representation and media relations to website development and online marketing. Click here for more information.